Install Windows Subsystem for Linux (WSL) using the Control Panel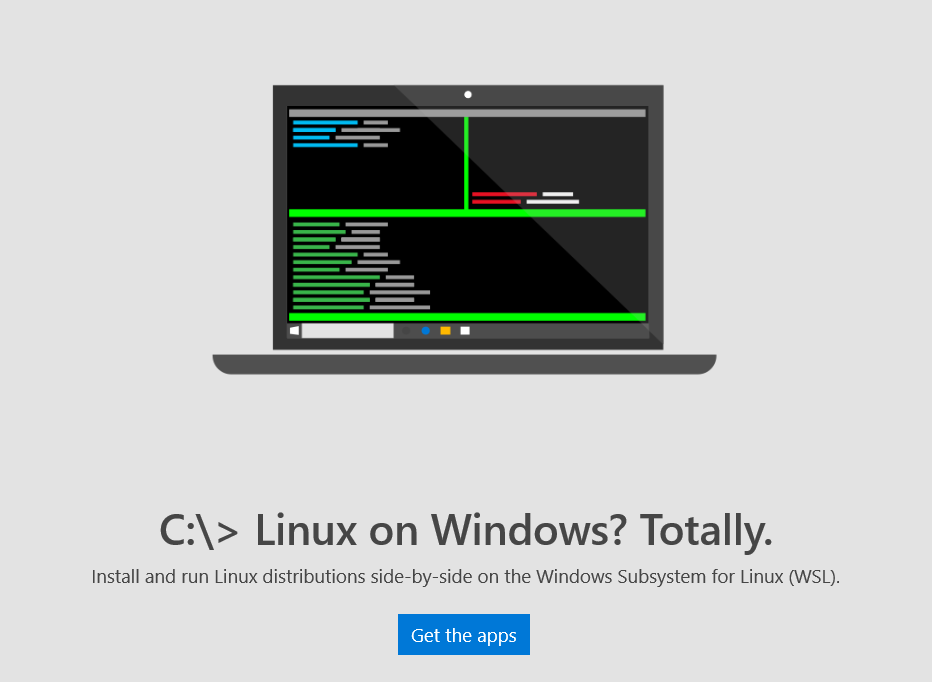 Before you can install any version of Linux on Windows 10, you must install Windows Subsystem for Linux (WSL) using Control Panel.
Open Settings.
Click on Apps.
Click on Apps & features.
Under "Related settings," on the right side, click the Programs and Features link.
Click the Turn Windows features on or off link.
On "Windows Features," check the Windows Subsystem for Linux (Beta) option.
Click OK.
Click Restart now.
After completing the steps, you can open the Windows Store to get the Linux distro you want to use.
Installing Windows Subsystem for Linux using PowerShell
Another option, use the command line method, it's also possible to install the Windows Subsystem for Linux using PowerShell.
Open Start.
Search for PowerShell, right-click the result, and click Run as administrator.
Type the following command to add the required module and press Enter:

Enable-WindowsOptionalFeature -Online -FeatureName Microsoft-Windows-Subsystem-Linux

Type Y to complete the installation and restart your computer.
Installing Linux distros using Windows Store
Perhaps an easier way to install Linux distros on Windows 10 is to use the Windows Store using the following links:
Ubuntu
SUSE Linux Enterprise Server 12
openSUSE Leap 42
Once the installation completes, launch the app, and complete the on-screen directions.
It will ask for a username and password
Be sure to keep these handy for future installs and upgrades.
Remember that you're not limited to install just one version of Linux. If you want, you can also install all three, including Fedora Linux when it becomes available in the Store, and run them all simultaneously.
You can install Linux distros using the Store starting with the release of the Windows 10 Fall Creators Update. However, if you have a device enrolled in the Windows Insider Program running the latest test build for PC, you can try any of them immediately. Also, note that devices running the Windows 10 Creators Update only supports Ubuntu, which can be installed using these steps.