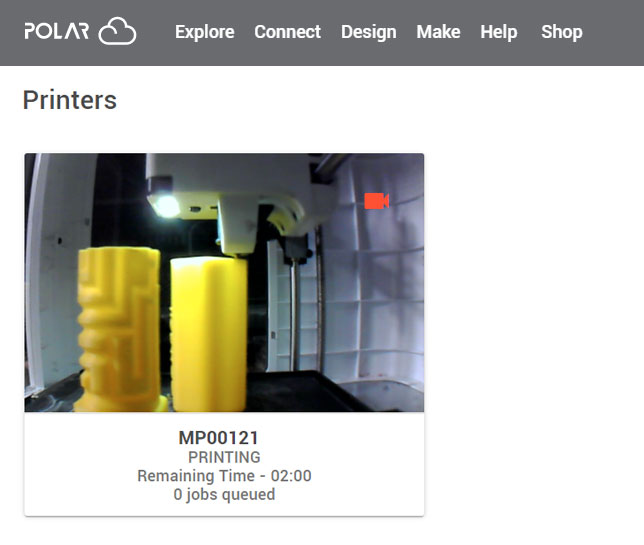 My first 3D Printer is a white Monoprice MP Voxel. It works very well most of the time, and I have printed many new objects made of PLA and ABS. It is a great starter printer with a fair-sized build platform.
Watching and 3D printing online with Polar Cloud
When I first got it, I could not figure out how to view the camera online. It comes with a built-in camera that I thought would be easy to set up. They changed how this works with the latest firmware (2020). Once my Monoprice Voxel was updated I saw an option for Polar Cloud. Follow these steps to see your camera online:
Update Monoprice Voxel firmware
Connect your Monoprice Voxel 3D printer to your network (Wifi or ethernet cable)
Create an account on Polar Cloud (polar3d.com)
Sign in to your Polar Cloud account and click your name in the top right
At the bottom of your profile you will see a PIN.

Write this number down. Example "1234"

Go back to your Monoprice MP Voxel and tap Tools and Polar Cloud

Enter the Polar Cloud PIN from above

Navigate to the Polar Cloud (polar3d.com) website and look for your printer.
Upload prints and watch them online!
Print something awesome!
"Monoprice, the No. 1 selling 3D printer brand in the world*, today announced its partnership with Polar3D to bring the Polar Cloud to its customers, starting with the MP Voxel 3D Printer. The Polar Cloud allows anyone with a browser the ability to easily create and transform digital models into physical objects, while providing a wide selection of pre-existing 3D models for users to choose from ...
About Monoprice, Inc. (DBA Monoprice.com)
Located in Brea, Calif., Monoprice, Inc. is an e-commerce leader specializing in providing more than 7,500 high-quality yet affordable electronics and tech products. As an industry innovator, Monoprice fills a void in the consumer technology market by delivering exceptional products that are on par with the best known national brands at prices far below the retail average with incomparable speed and service. Maintaining a business philosophy that focuses on the needs of its customers, the company strives to bring simplicity, fairness and confidence to consumers and businesses shopping for big-ticket electronics and tech accessories. For more information about Monoprice, follow them on Facebook, Twitter, LinkedIn, YouTube and the Monoprice Blog."